The inDigiMOB vision is that all Australians have equitable and affordable access to appropriate communications services and skills that enable them to achieve their full capability and aspiration. inDigiMOB is about improving digital inclusion for Aboriginal and Torres Strait Islander people in remote Northern Territory. It does this by making available a flexible suite of resources that communities and organisations can take advantage of, according to their diverse needs and contexts.
These resources include technical, training and infrastructure support. They aim to establish local digital mentors; improve digital literacy through workshops and training; support connectivity solutions; provide technical advice; and develop appropriate and relevant learning tools. inDigiMOB emphasises informal, peer-to-peer learning that values the experiences and knowledge of Aboriginal and Torres Strait Islander people. Learning is project based, inclusive, responsive to community wishes, and, where relevant, builds on existing projects.
Formative Program Evaluation Report
In its 2016 pilot year, inDigiMOB operated in Arlparra and Alice Springs town camps.
2016 Formative Program Evaluation Report
inDigiMOB gradually extended its digital inclusion program to connect with additional remote Northern Territory communities throughout 2017, 2018 & 2019.
Evaluation of inDigiMOB Year 2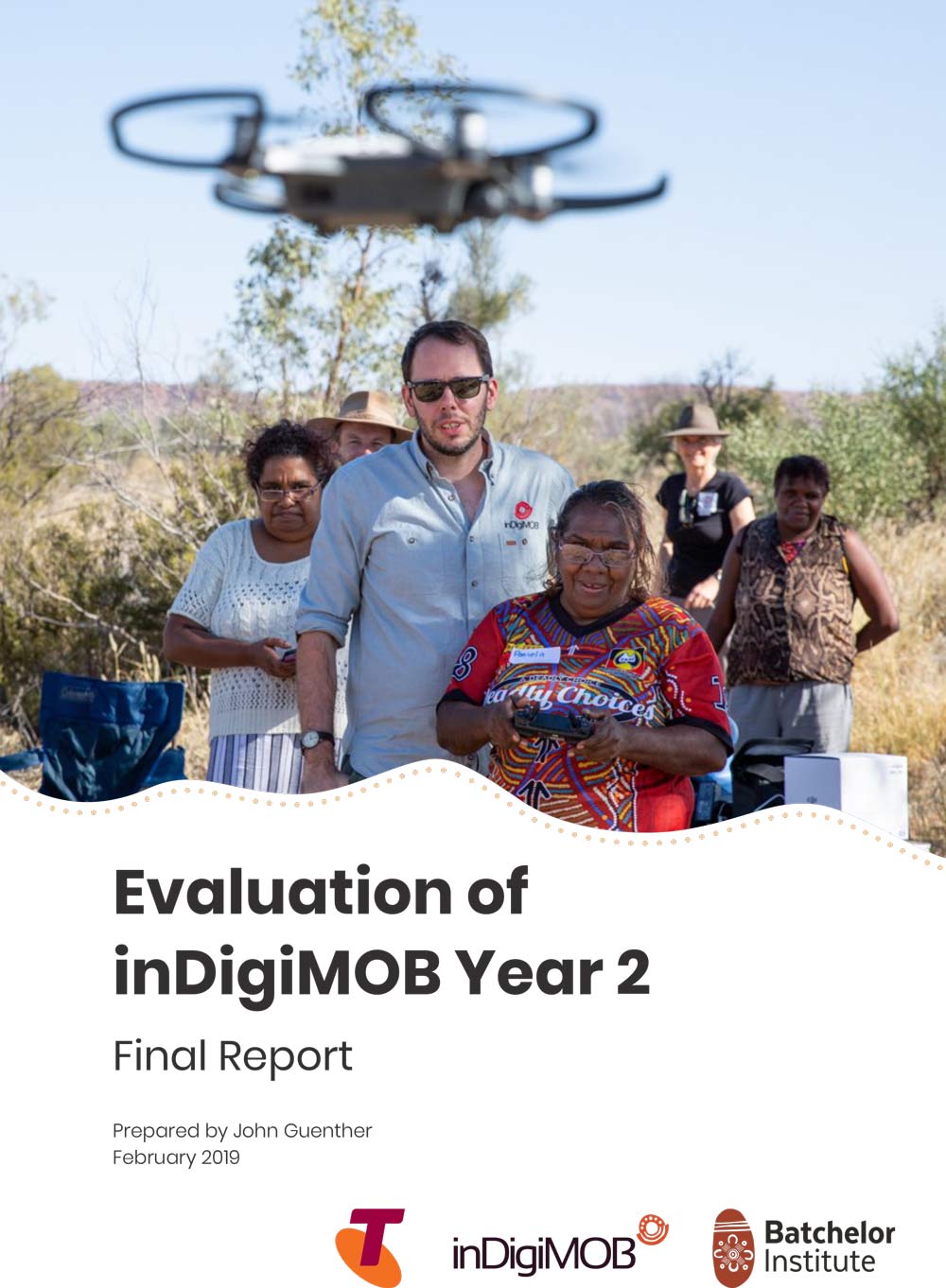 Completed in February 2019, the Program Year 2 evaluation drew data from 37 interviews with stakeholders, 13 participant surveys, and observations of activities in Alice Springs, Yuendumu and Ramingining, in addition to regular reports prepared by, and statistics collected from, Digital Access Workers at each site. The evaluation was led by Dr John Guenther from Batchelor Institute of Indigenous Tertiary Education and supported by community researcher, Shiree Mack.
Community partners
Tangentyere Council is the major service delivery agency for the 18 Housing Associations known as 'town camps' in Alice Springs tangentyere.org.au
Batchelor Institute of Tertiary Education sits uniquely in the Australian educational landscape as the only Aboriginal and Torres Strait Islander dual sector tertiary education provider batchelor.edu.au
PAW Media and Communications operates in the Pintubi, Anmatjerre and Warlpiri region pawmedia.com.au
ARDS Aboriginal Corporation are communication and creative media specialists, who have been working with Indigenous communities in the Northern Territory for over 40 years. ards.com.au
Anindilyakwa Land Council are responsible for activities within the Groote Archipelago, on behalf of the interests of the 14 owner clans of this area. The ALC is a 'future-forward' Land Council, highly geared to enable the Anindilyakwa people to take full advantage of the opportunities and technology available in the 21st Century, while simultaneously preserving land, language and culture. anindilyakwa.com.au
inDigiMOB Media Release 01
inDigiMOB Media Release 02
Background
In 2015, Telstra and the Northern Territory Government signed an infrastructure co-investment agreement to expand telecommunications infrastructure across the Northern Territory, serving more remote communities with mobile and fixed broadband services. To help ensure that this infrastructure makes a real and positive difference, Telstra requested the First Nations Media Australia to submit a proposal for the delivery of an Indigenous Digital Mentors project in these remote Aboriginal and Torres Strait Islander Northern Territory communities.
Launch
inDigiMOB Launch from First Nations Media Australia Australia on Vimeo.
Frequently asked questions
How are communities selected to be part of inDigiMOB?
Communities have been identified and prioritised based on the selection criteria that balances funding obligations with need and capacity. Community selection criteria:
Northern Territory communities that, where possible, are part of the Telstra and the Northern Territory Government Co-Investment Project.
Communities that are serviced by suitable partner organisations.
Communities where ICTs training and technical support is most needed.
Which communities have been selected to date?
inDigiMOB commenced with a pilot program in two NT communities in 2016: Arlparra and four Alice Springs Town Camps including Karnte, Hidden Valley, Trucking Yards and Larapinta Valley.
What are the barriers to digital inclusion in remote Aboriginal and Torres Strait Islander communities?
Through years of experience and consultations First Nations Media Australia has identified four key obstacles to the take up and use of technology in remote Aboriginal and Torres Strait Islander communities:
Affordability of internet services including limited information on data packages and costs management in relation to excessive bandwidth usage costs 

Availability of internet services including knowledge of internet services available in remote communities and black spot issues 

Awareness of community members of the potential of the internet and/or managing potential issues, including limited digital training, on-ground support and mentors, and cyber safety issues 

Appropriateness of internet awareness programs including lack of language-based training, lack of culturally appropriate training spaces and delivery modes.
Contact
To find out more about inDigiMOB visit indigimob.com.au, email [email protected] or ring 08 8952 6465.
Find us on Facebook facebook.com/indigimob
Find us on Twitter twitter.com/inDigiMOB