Background
First Nations Media Australia received Indigenous Languages and Arts Program funding to identify and trial an appropriate and affordable archive collection management system for First Nations community media collections. The focus of the project is on systems for:
Cataloguing of collections containing analogue and digital objects.
Enabling community access and searching of collection.
Cultural management of sensitive and deceased content.
FNMA assessed a range of existing systems for affordability, appropriateness, and how well platforms would support organisations to:
Identify, record and efficiently arrange what is in their Archive (analogue, digitised and born digital objects).
Record decisions for conservation and digitisation of analogue media.
Enable suitable digitised and digital media to be viewed online.
FNMA formed a Steering Group and a Reference Group to work with the sector and stakeholders in the identification of a suitable platform(s).
Project outcomes
The project was undertaken in two key stages:
Review of available archive platforms for use by First Nations community media collections (2019) -see 2.1;
Trial of recommended archive platform (Mukurtu) with three pilot organisations (March - October 2020) - see 2.2 below.
Through this project, FNMA also undertook a range of archiving skills development and capacity building activities for the First Nations media sector - see 2.3 below.
Stage 1- Platform Review
FNMA determined that there was no single platform able to meet the diverse archive needs in the First Nations community media sector. Therefore, the project took an alternative and flexible approach, outlining a range of options of affordable and culturally appropriate platforms, and enabled the suggested metadata set, to suit different archive needs.
Five platforms were recommended against seven scenarios as follows: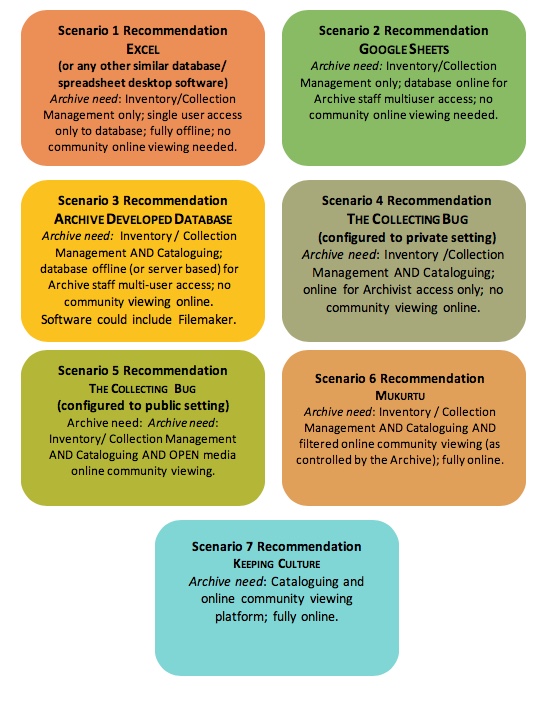 Born digital media
For born-digital media, a curation approach was recommended using Neofinder as the in-house Digital Asset Management System (DAMS), and separate viewing platforms used for community access, as shown below: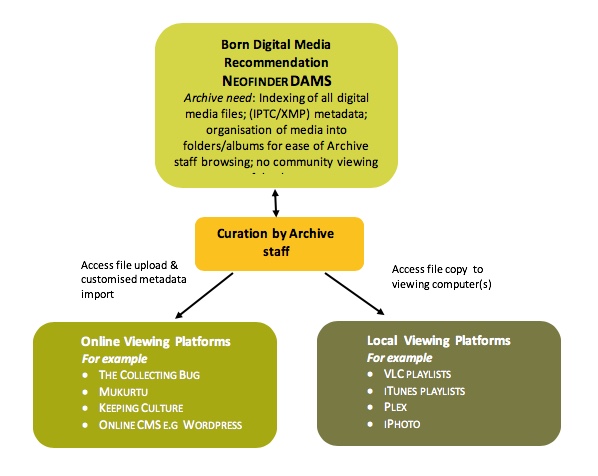 A summary of the platform scenarios and a flowchart for supporting Archives to make selection decisions is available for download here. ​
Stage 2- Trial of Mukurtu archive platform
The Mukurtu platform was selected for the Stage 2 trial due to being designed for First Nations collections, being well established and supported (by Washington State University) and being cloud-based, open source, affordable and sustainable. Mukurtu supports both collection management and community access to digital media, with cultural protocols for managing user access to items.
In early 2020, FNMA established the First Nations Media archiving hub using the Mukurtu platform, to support organisations to set up and self-manage 'spoke' archives on the site. A 6 month trial of the platform was undertaken from March 2020 with three pilot organisations- PAKAM, PAW Media and Umeewarra Media. Each organisation was provided training and support to contribute a range of media types - audio, video and photographic- to the platform, add metadata using recommended value lists, and set access protocols for each item. The evaluation survey undertaken in October 2020 demonstrated the effectiveness of the platform to meet the archiving and community access needs of the three organisations and that the training and support was highly valued.
In addition, FNMA set up a First Nations Media History archive collection on the hub to house photographs and media of key sector events, activities and people. Any contributions of sector history images, audio or video are welcome- please contact [email protected].au. An Evaluation report and presentation were done at the completion of the trial in November 2020.
Based on the successful outcomes of this trial, FNMA is seeking funding support to expand the use of the Archiving hub to other First Nations media and community organisations.
Archiving Capacity Building
FNMA also delivered a number of activities to build archiving skills and capacity within the sector: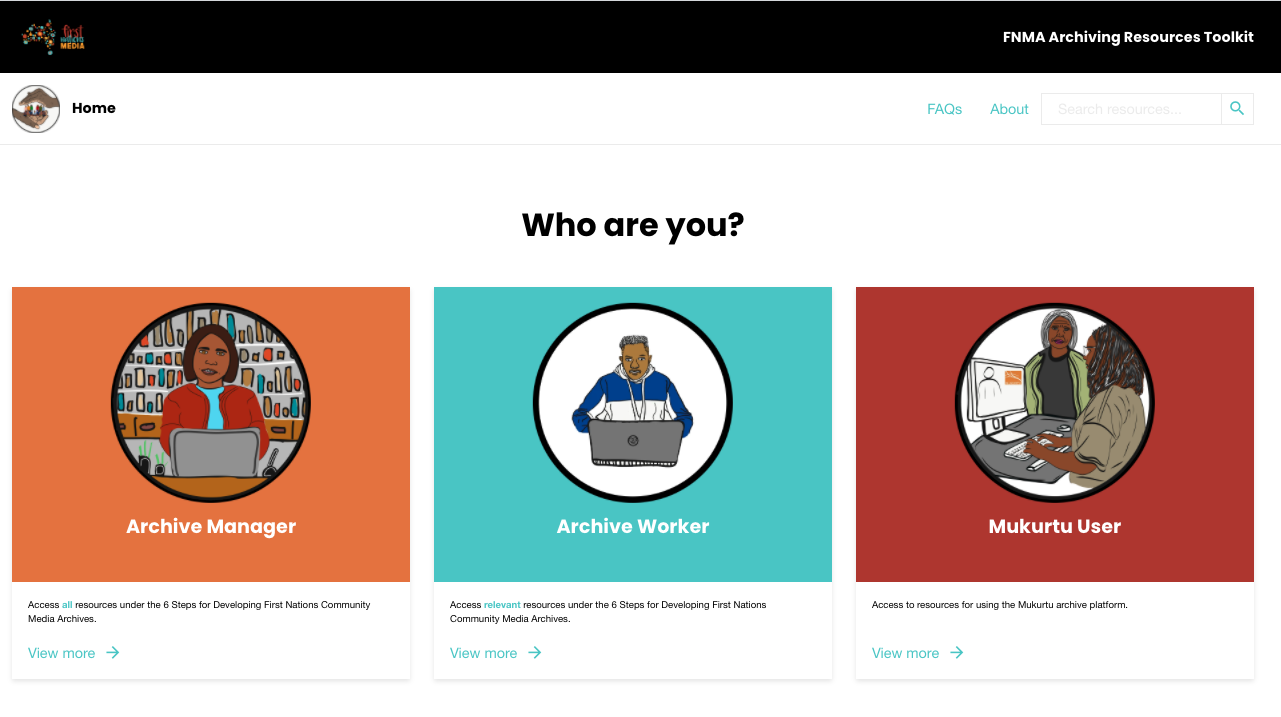 FNMA Archive Resources Toolkit: A new interactive Toolkit has been A range of archiving resources are currently available in the Archiving Resources section of the FNMA website. The resources are also now available on our interactive Toolkit at: toolkit.firstnationsmedia.org.au. Two training manuals are currently being developed for Archive Managers and Archive Workers.

Skills Workshops: Deliver two face to face training skills workshops (Remote Indigenous Media Festival 2019 and CONVERGE 2019)

Webinars: FNMA delivered five webinars to support organisations to get started with archiving.
Project Staffing
The Project Manager in 2019 was Susan Locke.
The Project Manager in 2020 is Daniel Featherstone. Email [email protected].au.
Technical support for the project and First Nations Media Archive hub by Ben Pridmore. Email [email protected]
Inquiries may also be made to First Nations Media Australia at info@firstnationsmediaaustralia.org.au or phone on 08 8952 6465.
Acknowledgements
This project was made possible through funding support by the Indigenous Languages and Arts Program, managed by the Department of Infrastructure, Transport, Regional Development and Communications.
A huge thanks to Susan Locke for contributing her wealth of knowledge and experience in developing the First Nations Media Archiving Plan, the archive platform project and the Archive resources, and for volunteering additional time to the Mukurtu trial setup.
A special thanks to the three pilot organisations- PAKAM, PAW Media and Umeewarra Media- and to the members of the Steering Group and Reference Group for the project.
We gratefully acknowledge the support of key industry partners - AIATSIS, National Film and Sound Archives, Library and Archives NT, Melbourne University, and Jumbunna Institute UTS- and to Washington State University for managing the open source Mukurtu platform.