REMOTE MEDIA MAJOR AWARDS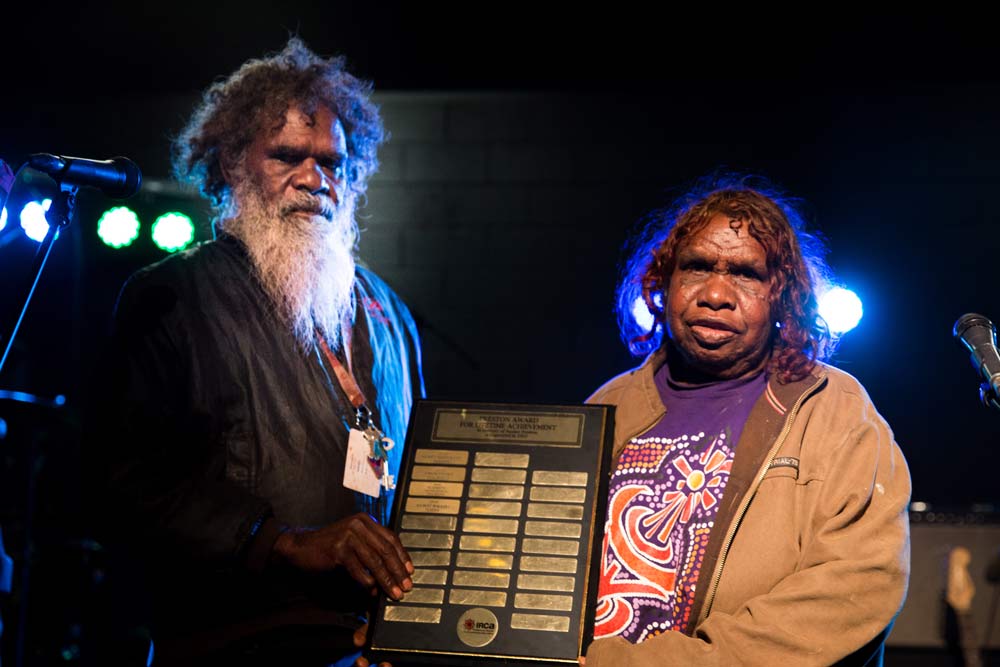 Preston Memorial Award for Lifetime Achievement
The winner is: Roma Butler and Simon Butler, NG Media
Simon and Roma Nyutjangka Butler are pioneers of Indigenous broadcasters and were the founding radio broadcasters at Irrunytju Media (now Ngaanyatjarra Media) in 1992. They have been the most consistent broadcasters and well known voices across the Ngaanyatjarra and APY region for over 25 years (on 5NPY and Radio NGM since 2013), broadcasting primarily in language. They usually do their radio shows together, providing a mix of local news and activities, music (local, country, classics), and callouts to family and friends across the region. They are both on the Ngaanyatjarra Media Board and work as Cultural Officers for Ngaanyatjarra Media.
Simon began working at CAAMA in 1987 and they both completed broadcasting and media courses at Batchelor Institute. Both are strong cultural leaders and performers, having performed in Inma (Turlku) events throughout the region around the country. Roma is an accomplished artist, with work collected in several national galleries and having had several solo exhibitions.
View more information about this award, here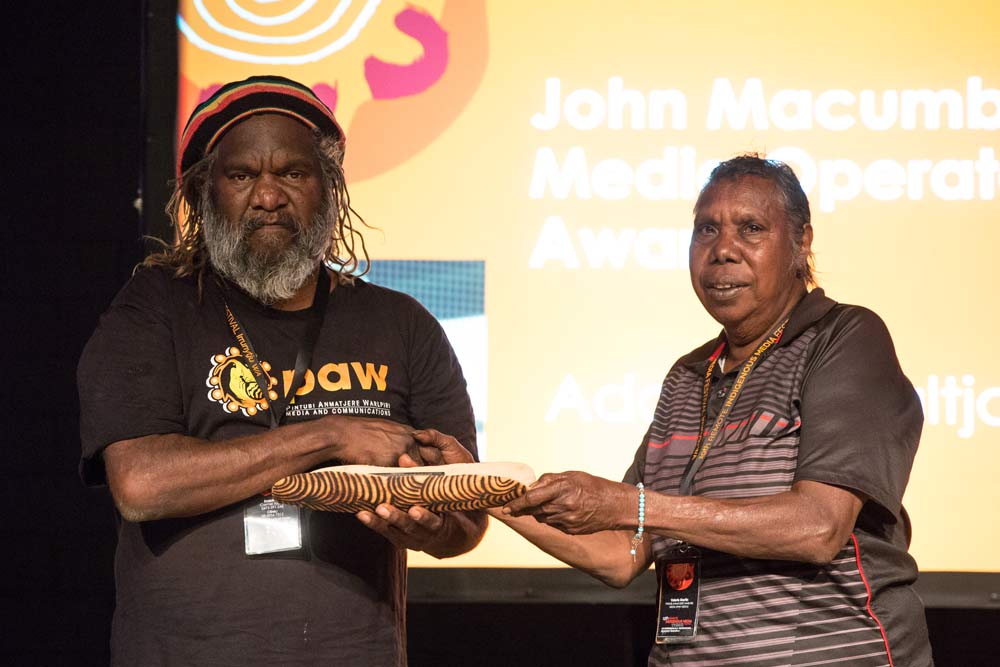 John Macumba Media Operator of the Year Award
The winner is: Adam Tjapaltjarri Gibbs, PAW Media
Adam has been working in radio for close to thirty years and continues to regularly provide the PAW network with a daily show that brings humour, music, community information and a unique personality to the airwaves! A speaker of several indigenous languages as well as English, Adam is warm and engaging, encouraging listeners to make requests and sending out greetings to family and friends across central Australia. Adam is quick to have a joke, and his enthusiasm for radio is apparent in his shows.
View more information about this award, here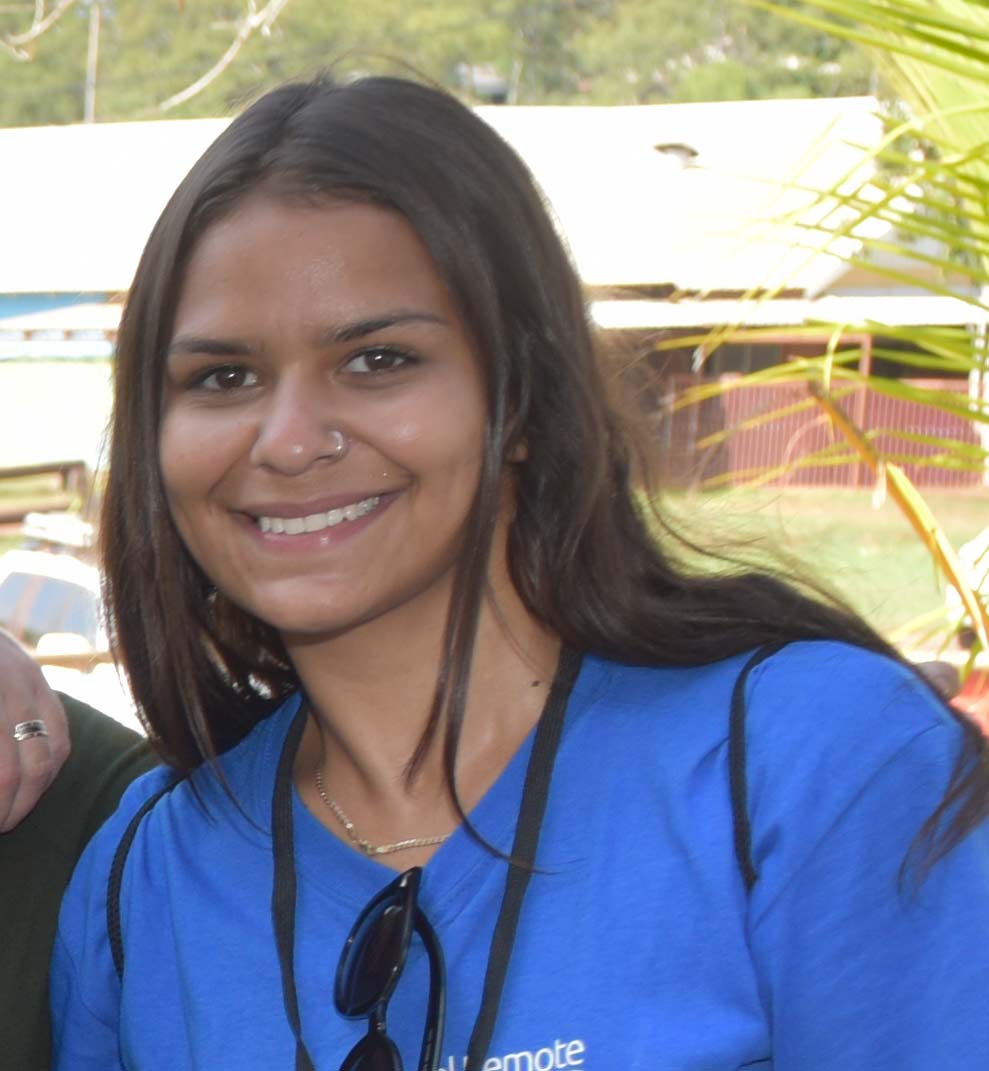 Steve McGregor Award for Best Emerging Talent in Film/Television
The winner is: Viviana Petyarre, CAAMA
Viviana Petyarre is an Alywarr woman from Utopia, NT. She has built an impressive showreel over the last few years, with skills in producing, directing, script writing as well as cinematography and editing. It is good to see her moving into longer form documentary and drama filmmaking and well on her way to a successful career in film- making. A thoughtful and promising filmmaker, her works showcase indigenous culture and diversity.
View more information about this award, here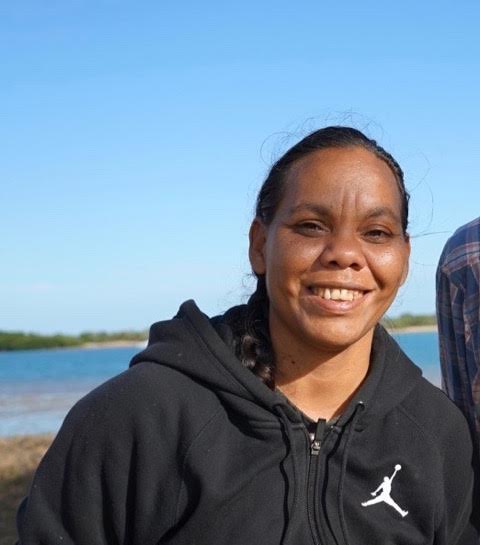 CBF Excellence in Community Television Award
The winner is: Renee Wilson
Renee's fresh approach to filmmaking has resulted in an original style of immersive community video that tells the story of the Mornington Island community in the face of the changing seasons. Filmed over a period of months it also captures a beautiful series of portraits and events taking place in the community. This film is impressive for an emerging filmmaker with a relatively low level of experience, the moments captured on camera demonstrate a remarkable eye and the final edit demonstrates her great skills.
View more information about this award, here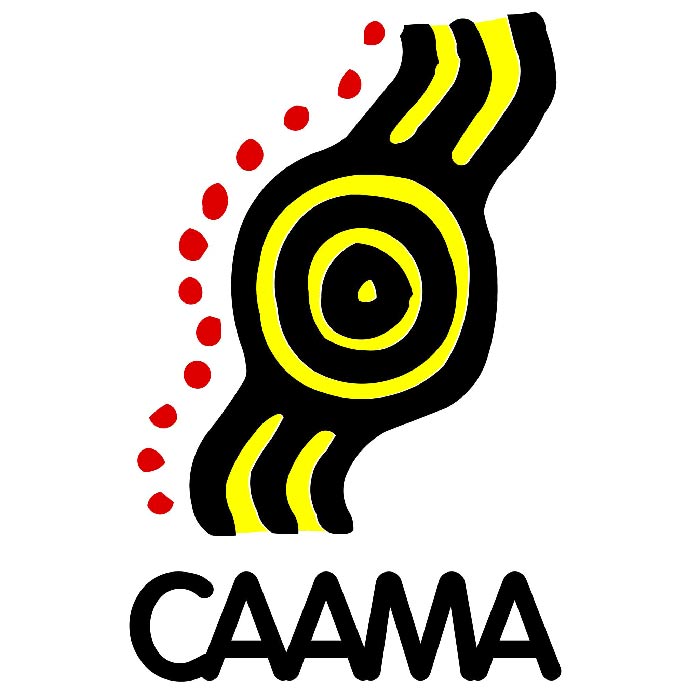 NITV Spirit Initiative
The winner is: Chris Fitzpatrick, CAAMA
Chris is from Borroloola, a small remote community around the Gulf of Carpentaria. He started having an interest in video editing, animation and camera operation at the age of 15, which led to the path of completing a Cert IV TAFE Course in media after graduating year 12. CAAMA Productions offered him his first job in the media industry at the age of 19. When he first got into CAAMA, his tasks took a focus on animation, but later I found himself taking on the role of a trainee-everything, soaking in as much knowledge as he could in any area that is relevant to story-telling, such as directing, camera operation, pre-production, scriptwriting, sound operation, video editing, animation and even acting.
View more information about this award, here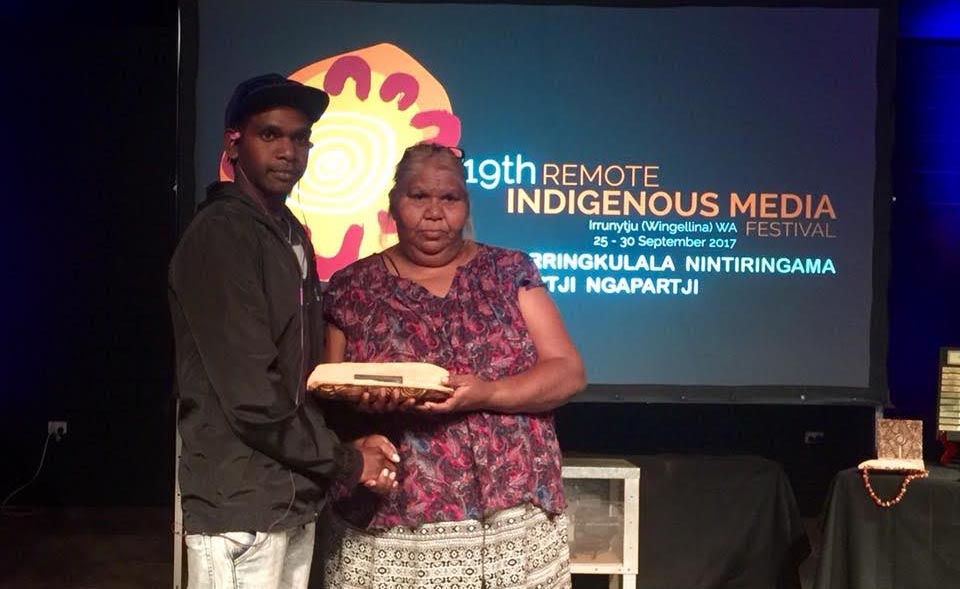 Mr Garawirrtja Award for Contribution to Media, Entertainment and the Arts
The winner is: Matthew Lewis, NG Media
Matthew Lewis has excellent skills in music production and drone cinematography as well as camerawork and sound recording, although it is difficult to identify which footage or audio Matthew has been involved in from the showreel and description.
View more information about this award, here
REMOTE MEDIA INDUSTRY AWARDS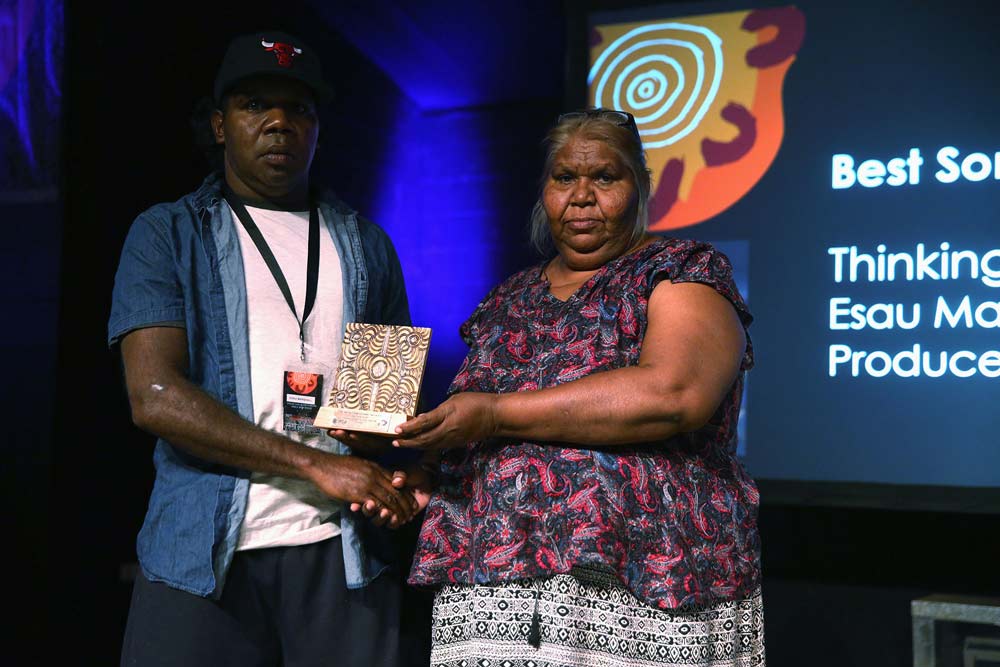 Best Song Award
The winner is: Thinking About You - Esau Marshall featuring Crystal, produced by PAW Media
The song is sung in Warlpiri and English and tells the story of a man who is trying to work through problems with his wife by talking and thinking about his role. It's also a love song - he's thinking about what the future will be like without his love if he doesn't work out his issues.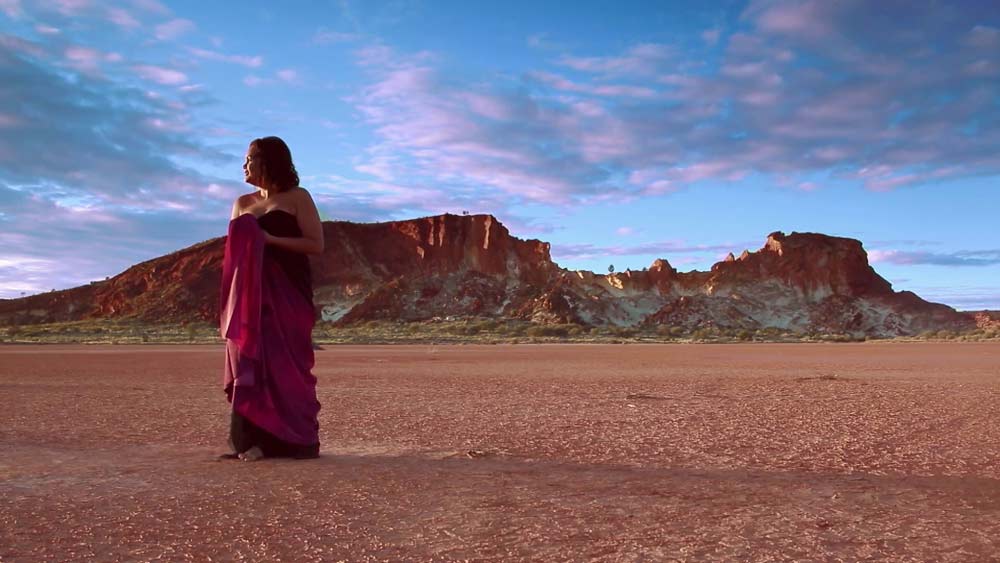 Best Music Video Award
The winner is: Set the Tone - Charmaine Ingram (Director)
Charmaine Ingram is the ABC Open producer for Central Australia and an Indinji woman from the Cairns region in Far North Queensland. Before joining ABC Open, Charmaine, was a reporter for the ABC's 730 NSW Report, Lateline and news programs.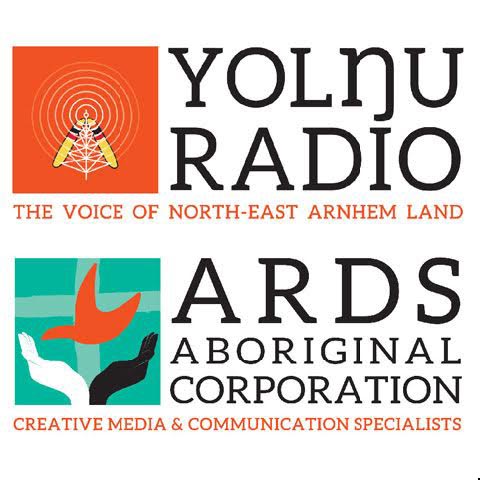 Best Outside Broadcast Award
The Garma OB is the biggest and most challenging on the Yolngu Radio calendar. It takes a dedicated and confidence team of presenters. The OB enables participation across the region in Garma Festival. Many people can't attend Garma due to the cost and challenges of remote travel, conflicting sorry business, illness and other factors but they can tune in to hear their clans represented through music and dance. The daily buŋgul dance ceremonies provide a valuable opportunity for young Yolngu people to learn songlines and the meanings behind them through the broadcast.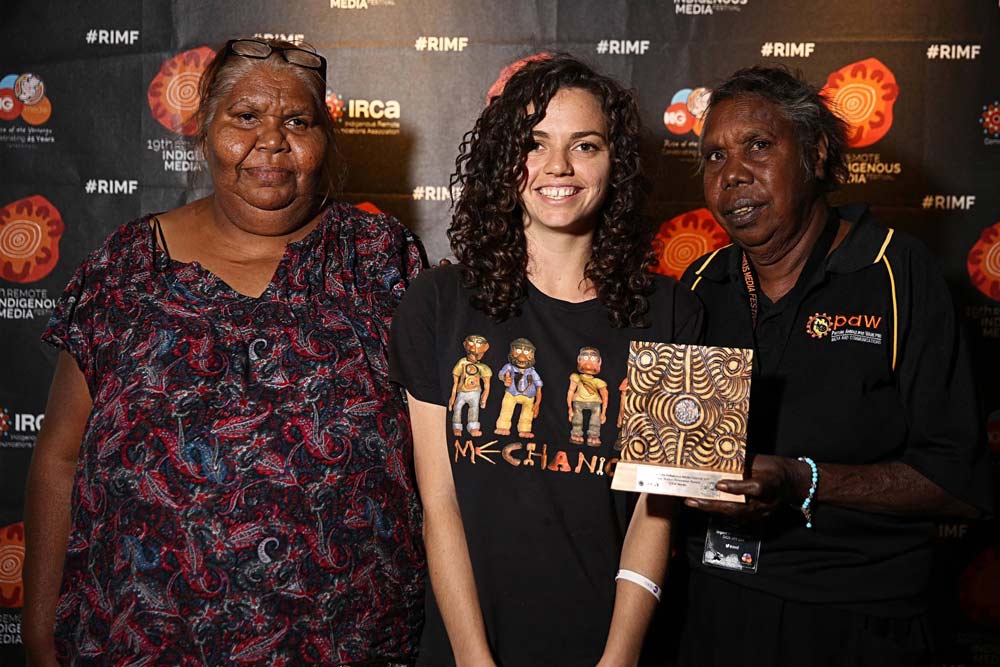 Best Station Promotion Award
This promo captures the community driven nature of the radio station through its use of multiple voices, and at the same time advertises the PAW Radio Frequency and the names of the communities in the broadcast range. It is popular in community, and has led to more community members being keen to have their voice recorded for Station ID's that they can hear on the radio too.
Best Radio Production Award
The winner is: Yolngu Radio for 'Nhaliy dhu Yolŋuy yutjuwaḻa'kum mari beŋur pokiesŋur?'
The 12-part radio Yolngu language series is being broadcast regularly on Yolngu Radio and was funded by the Community Benefit Fund. It is aimed at addressing gambling problems, particularly pokies.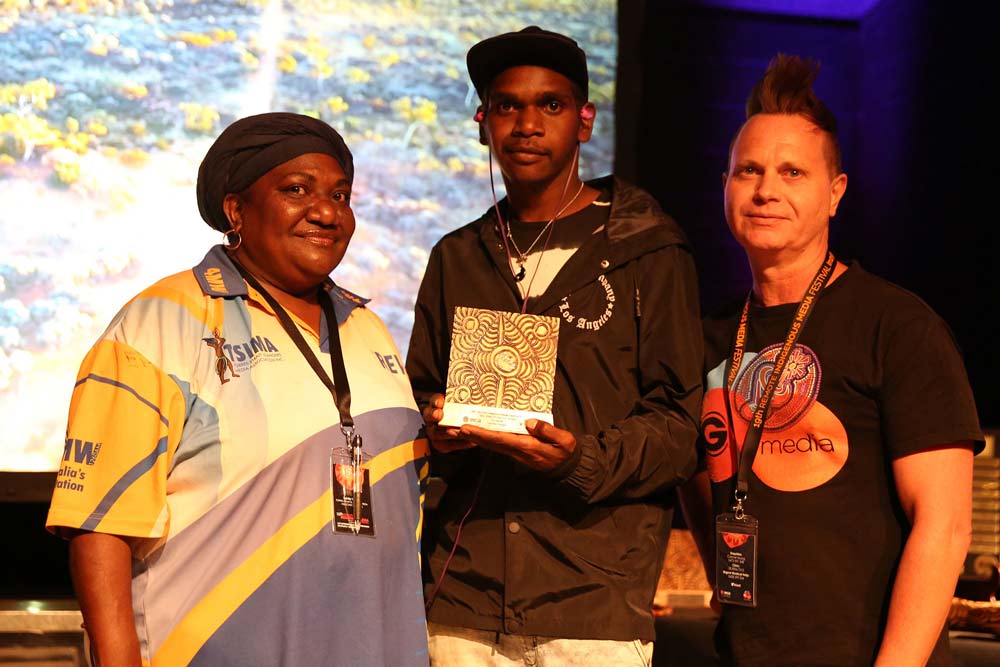 Best Video Production Award
The winner is: Spinifex Rangers, NG Media
In the heart of Western Australia's spinifex country, rangers from Australia's ten deserts meet to share their experiences and discuss threats facing their lands. Scott Baird, Ethan Hansen and other Spinifex Rangers are fighting the negative impacts of Buffel grass spreading like a disease throughout land. This story is about how far they've come, the challenges ahead and how technology can keep their Tjukurpa (Dreaming) alive and at the same time protect the most vulnerable desert species in the arid lands. Connecting people, connecting country, working together to protect their lands.
NATIONAL INDIGENOUS MEDIA AWARDS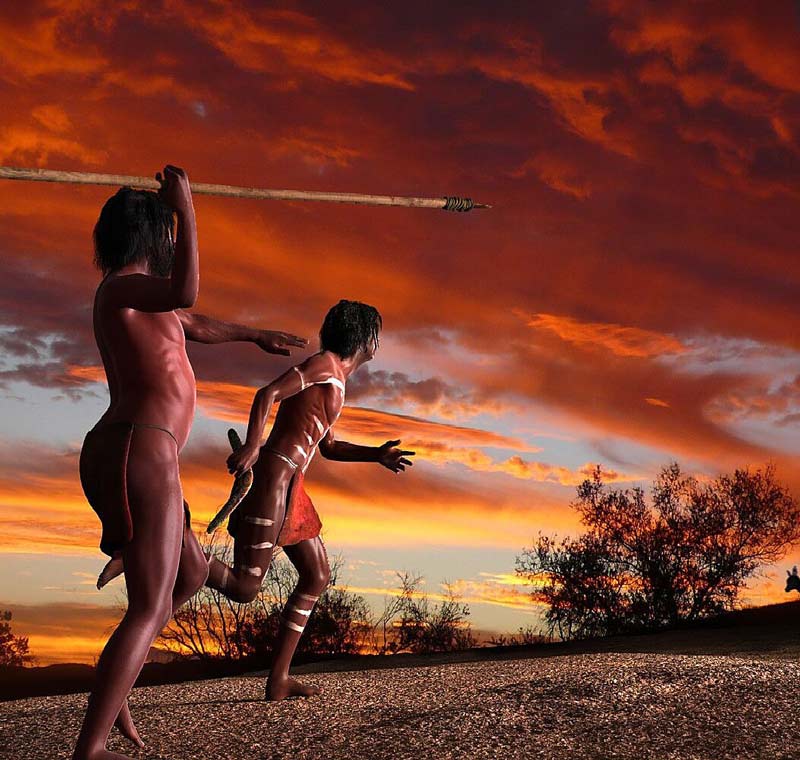 Best Innovation in Online and Digital Media
The winner is: Virtual Kamay - Bilbie Labs
Virtual Kamay or Virtual Songlines is a virtual reality platform designed for and by First Nations people. Using a VR headset users can immerse themselves in a 3D, interactive cultural heritage landscape.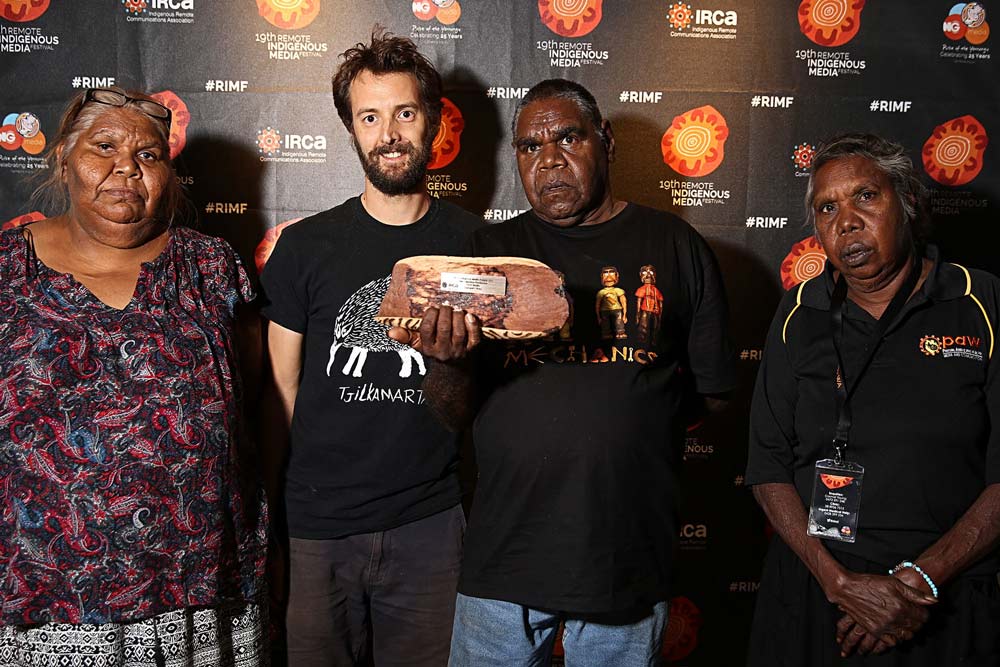 Best Television Production
The winner is: Yarrapiri's Story - PAW Media
Yarripiri's Journey was produced by PAW Media for Screen Australia's 'Songlines on Screen' (Series 2) initiative. It will be broadcast nationally by NITV. The film captures the Jukurrpa (Dreaming) story of Yarripiri, a snake ancestor of Warlpiri people. This journey is celebrated in the Jardiwarnpa fire ceremony, one of the most important and spectacular Warlpiri cultural events. The full ceremony has not been performed since 1992, and the Jukurrpa's senior owners (kirda) and guardians (kundungurlu) were very keen to document the various aspects of the story for future generations. Performers were chosen from within the appropriate cultural sub-sections (skin-groups) to fill the roles of ancestral entities in the re-enactment scenes.
REMOTE MEDIA ORGANISATION AWARDS
Best RIBS Broadcaster of the Year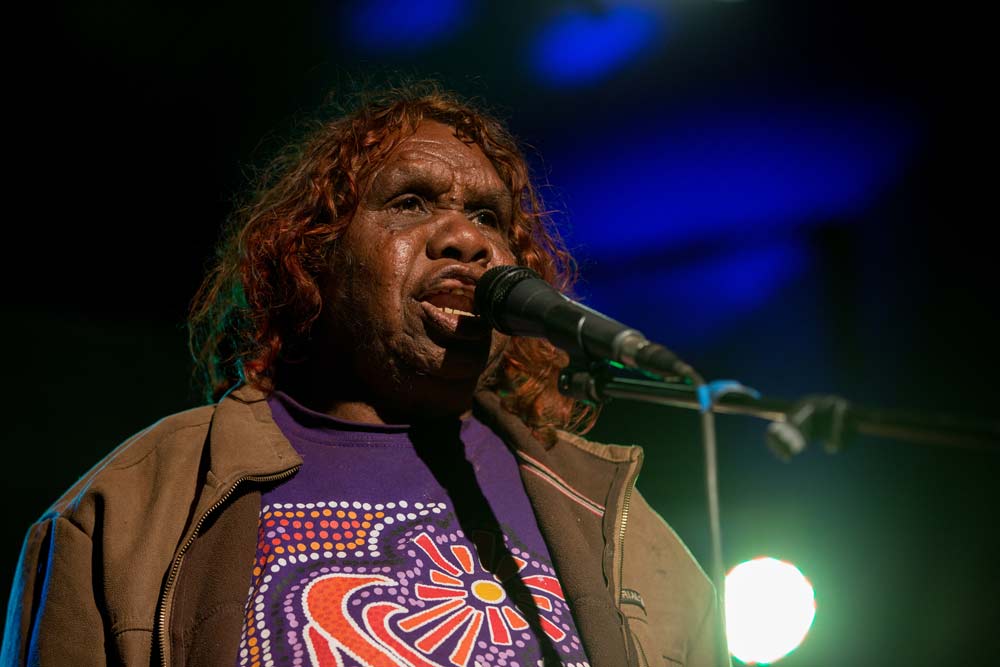 NG Media
The winner is: Roma Butler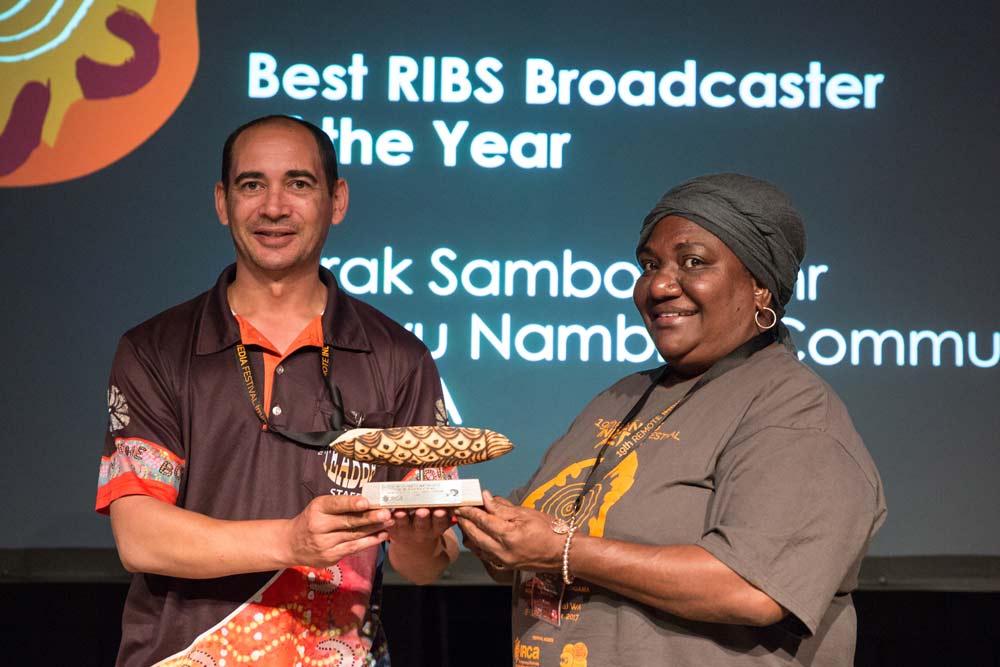 TEABBA
The winner is: Barak Sambono Snr, Nauiyu Nambiyu Community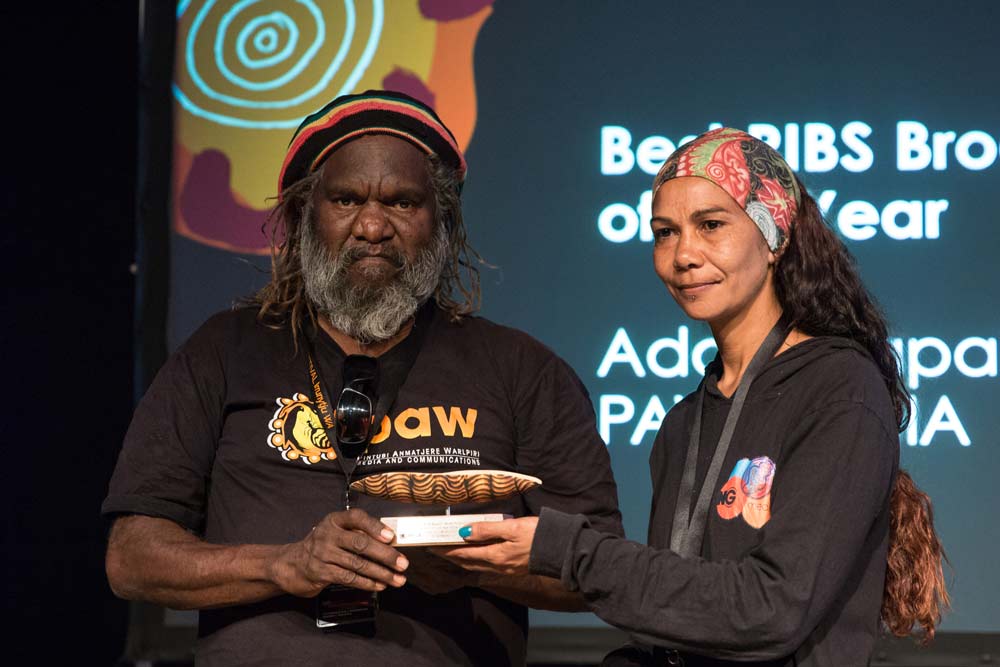 PAW Media
The winner is: Adam Tjapaltjarri Gibbs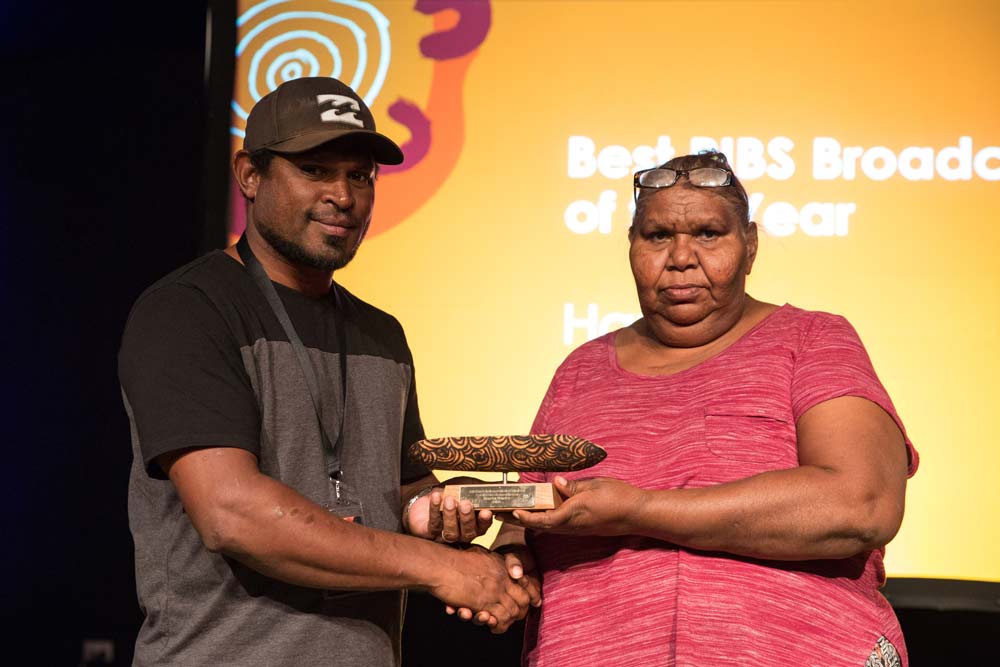 TSIMA
The winner is: Harry Lui, Warraber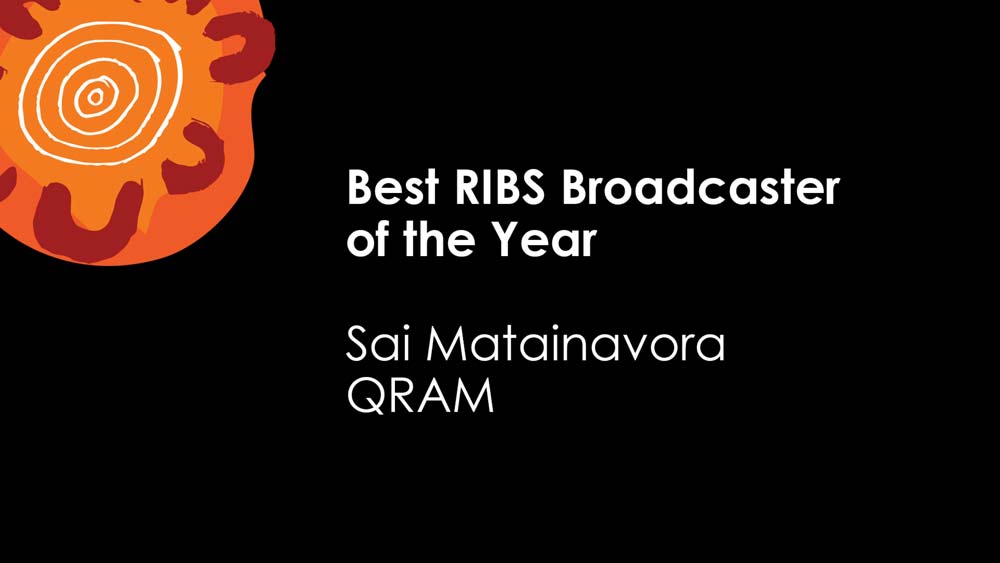 QRAM
The winner is: Sai Matainavora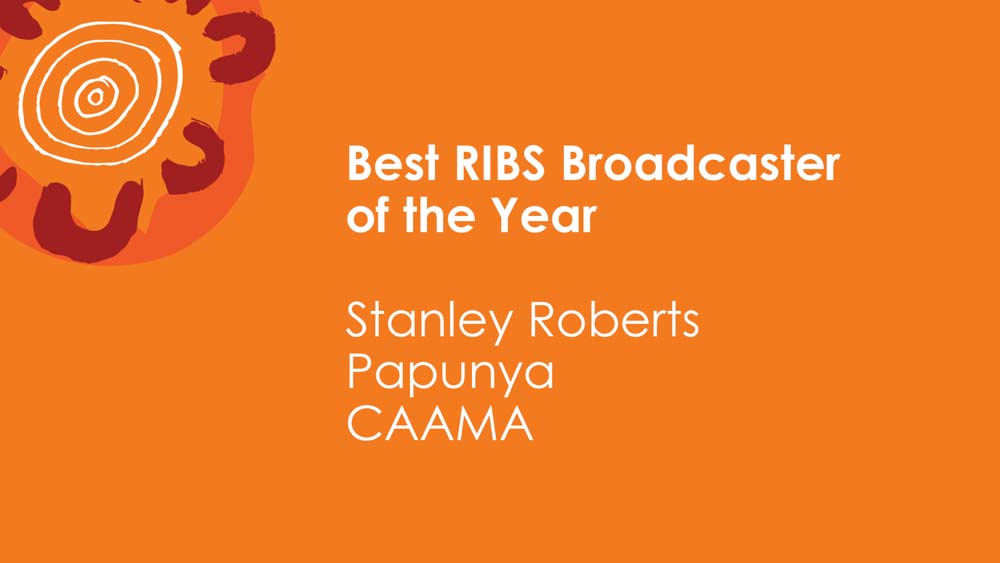 CAAMA
The winner is: Stanley Roberts – Papunya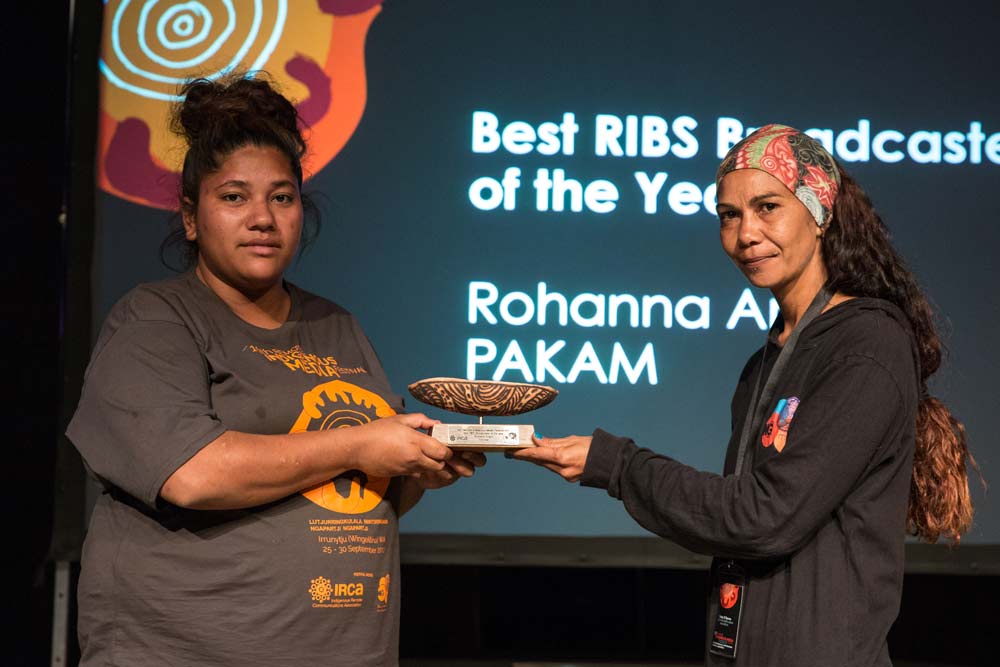 PAKAM
The winner is: Rohanna Angus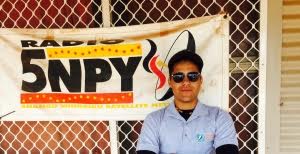 PY Media
Bradley Roberts
Best Emerging Radio Talent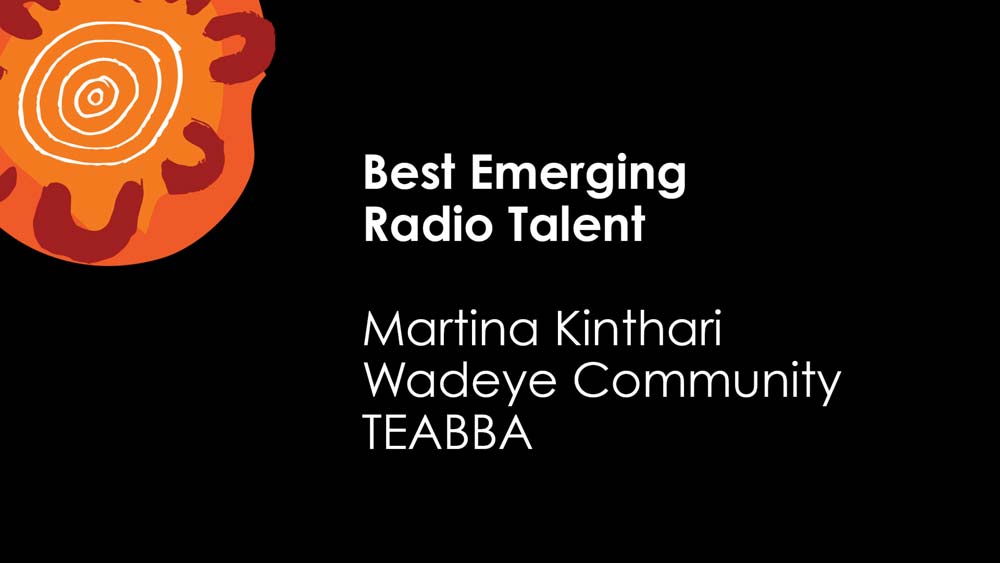 TEABBA
The winner is: Martina Kinthari and Patrick Jongmin - Wadeye Community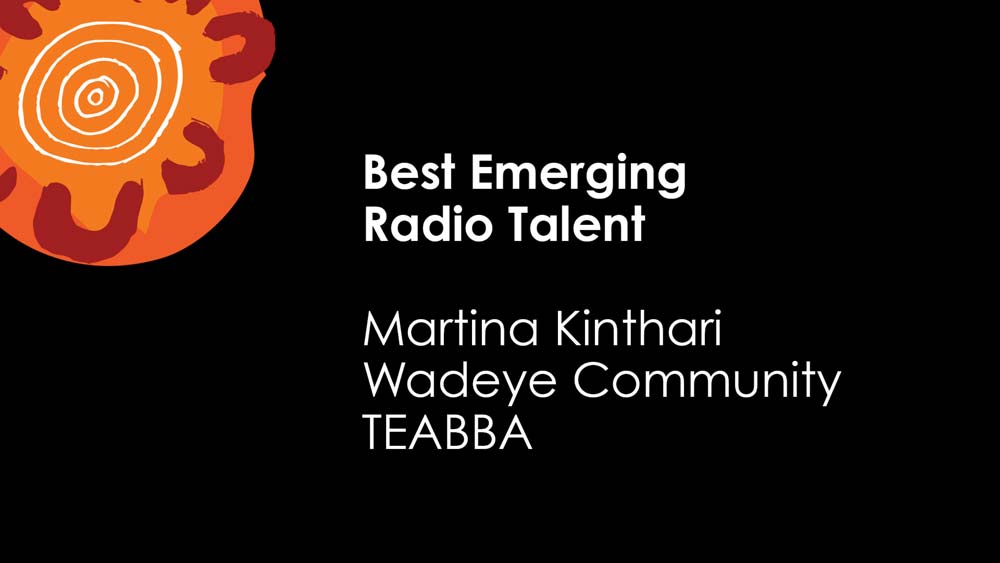 PAW Media
The winner is: Marietta Wilson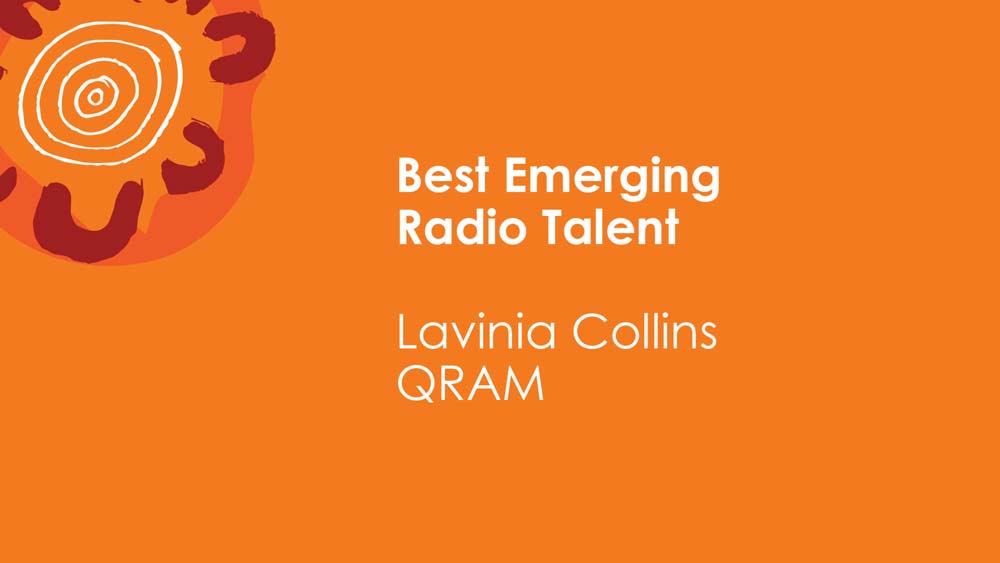 QRAM
The winner is: Lavinia Collins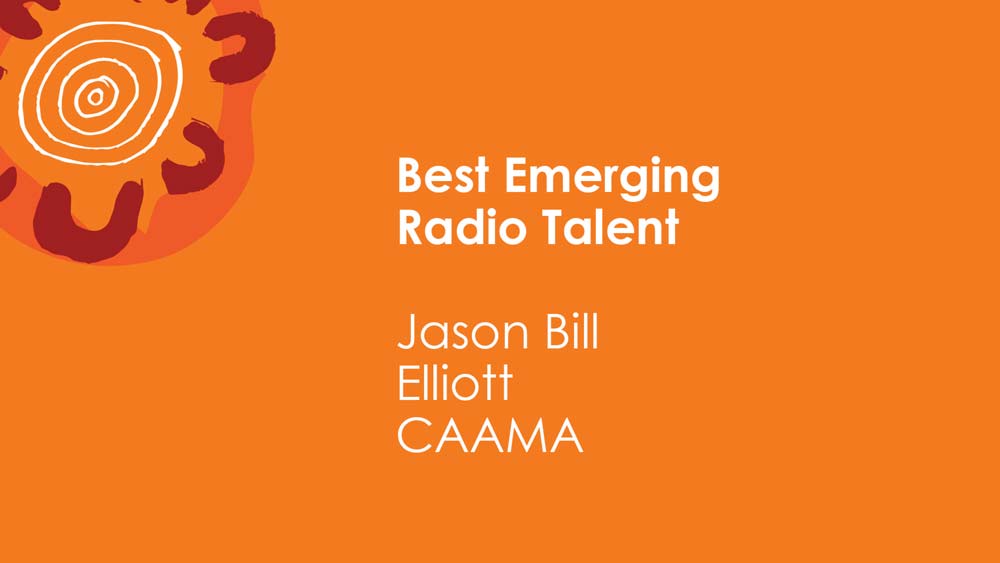 CAAMA
The winner is: Jason Bill – Elliott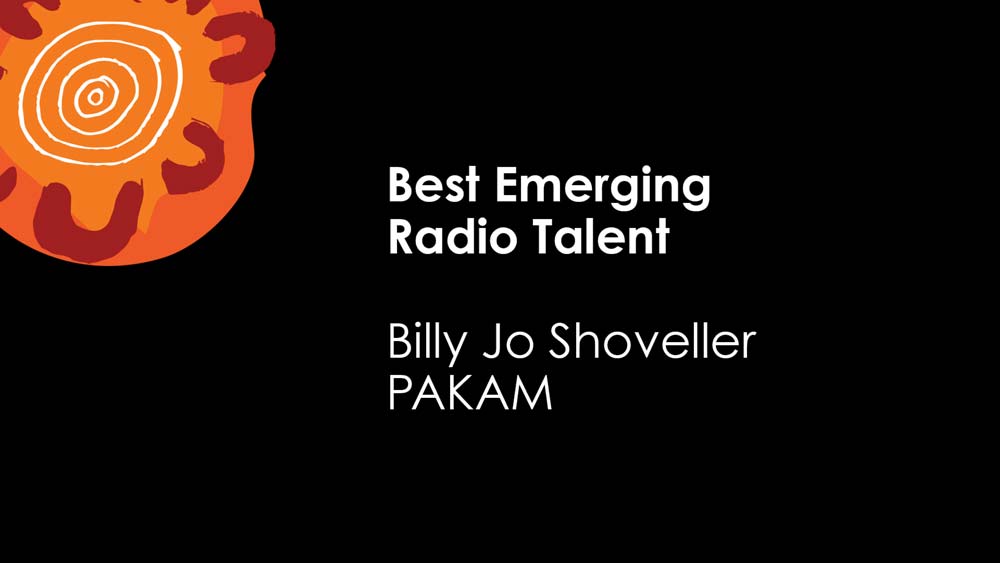 PAKAM
The winner is: Billy Jo Shoveller