MEETING TOGETHER >> MOVING IN ONE DIRECTION
BULAAN GEE-LA BURAABANG GAWAARII WAALA NGUN MA LEENY YABUUR WAALA
CONVERGE Lismore brings the First Nations media industry together on Bundjalung country to learn, share and network. For this national conference, we will be celebrating the 30th anniversary of our co-hosts, the Koori Mail.

The First Nations media sector couldn't get together in 2020 due to COVID-19. We celebrated the First Nations Media Awards online in December 2020 and hoped we could meet in person in 2021. With all borders open and interstate travel available again, that time has come!

During the day, we'll be converging at the Northern Rivers Performing Arts Centre (NORPA) for workshops, plenaries, presentations and industry discussion. We want your input to the future direction of the First Nations media sector and the set the policy direction for your peak body.

In the evenings, we'll be celebrating with the Lismore community; take a look around the history of the Koori Mail gallery exhibition and grab a feed at the food trucks, sit back and take in some screen content highlights at our cinema night and get on your feet to dance the Friday night away with a final night concert on the Friday evening.

The full conference program will be announced in the coming weeks. Detail on some of the event logistics is outlined below.

CONVERGE Lismore will be a COVID-safe event. While we do want to welcome all First Nations media workers from around the country, places will be limited to 10 delegates per organisation to ensure space for everybody. Get in quick!

WHO IS COMING?
The following organisations will have representatives at CONVERGE Lismore:
Aboriginal Legal Service of Western Australia
AIATSIS
Community Broadcasting Foundation (CBF)
NSW Aboriginal Land Council
ABC
Regional Enterprise Development Institute (REDIE) (Wilcannia River FM)
SBS - NITV
Social Futures
AFTRS
SA FILM
National Aboriginal Community Controlled Health Organisation (NACCHO)
DART CENTRE ASIA PACIFIC
National Indigenous Radio Service (NIRS)
6DBY
ICTV
4ZZZ
PAKAM
National Aboriginal Community Controlled Health Organisation (NACCHO)
TEABBA
3KND
NGAARDA MEDIA
PAW Media
Australian Communications and Media Authority (ACMA)
Community Broadcasting Association of Australia (CBAA)
Waringarri Media
Goolarri Media (6GME)
Spots and Space Pty Ltd
Koori Radio
One Mob Radio
Nunga Wangga Aboriginal Corporation
8CCC
Cherbourg Radio
Thamarrurr Wadeye Media Centre
First Languages Australia
Ngaanyatjarra (Ng) Media
Brisbane Indigenous Media Association (BIMA)
ABC Radio
RMIT University
Department of Infrastructure, Transport, Regional Development and Communications
TSIMA
National Indigenous Australians Agency (NIAA)
Community Media Training Organisation (CMTO)
33Creative
Registrations have now closed.
If you missed registering for the event and want to come along, please contact our Member Services Officer, Stephanie Stone via [email protected]
OPENING NIGHT
Koori Mail is putting on a welcome dinner on Tuesday 4th May where delegates will receive a welcome to Country and have a chance to catch-up - a chance many of us are looking forward to after a long period of isolation in different states.

CONFERENCE
On Wednesday 5th, Thursday 6th and Friday 7th May, delegates will CONVERGE at the Northern Rivers Performing Arts Centre (NORPA), 1 Bounty St, Lismore.

The three-day conference will include plenary sessions and presentations in the Theatre hall, plus breakout workshops and discussion groups in the lower level of this two-storey centre.

The entrance area will feature a Trades Hall, allowing delegates an opportunity to talk with suppliers and stakeholders, and provide a break-out space for networking.

The First Nations Media Australia AGM will be held on Friday 7th May. FNMA members will receive an AGM pack prior to the event.

VIEW THE CONVERGE SCHEDULE OVERVIEW HERE.
INDIGENOUS DIGITAL LEADERSHIP FORUM
On Tuesday 4th May, First Nations Media Australia's inDigiMOB team will be hosting the Indigenous Digital Leadership Forum focused on remote telecommunications and digital connectivity. FNMA members who have attended previous Broadband for the Bush and/or Indigenous Focus Day forums will be invited to join with representatives from the telecommunications industry, government and relevant stakeholders for digital inclusion discussions and strategy. If you would like to attend this event in addition to the CONVERGE conference, please email [email protected]
MAKING TRAVEL PLANS
Driving
Lismore is approximately a 2-hour drive from Brisbane, around 9-hours drive from Sydney and about a 35 minute drive from Ballina, NSW.
Delegates may choose to fly to Brisbane or Ballina and hire a car, or to drive from regional areas.
Car hire
Avis Car Hire: (02) 6621 9022
Budget Car Hire: (02) 6622 1900
Europcar: 13 13 90
Hertz Car Hre: (02) 6621 8855
Thrifty Car Hire: (02) 6622 2266
Lismore Taxi's: (02) 6621 2618
Bus
There is no direct bus to Lismore from Ballina. However, a short bus ride from the airport into Ballina to the Ballina Coach stop: Tamar Street, will take you to a bus stop where a direct bus will take you to Lismore.
Ballina to Lismore bus services.
Northern Rivers Buslines: 02 6626 1499 or 1300 367 077
Flying
The closest airport to Lismore is at Ballina. This airport is serviced by Qantas, Virgin and Jetstar flights from Sydney, Melbourne or Brisbane each day. Rex Airlines also have a flight from Sydney on Monday 3rd May.
Alternately, you could fly to the Gold Coast and hire a car, or catch the Byron Bay Easy Bus for around $60 one-way.
If you fly to Brisbane airport, you can get the Byron Bay Shuttle for around $76 one-way.

Shuttle service
A shuttle service will be provided for delegates arriving at Ballina airport on Tuesday 4th May. Buses will meet flights arriving around 11:45am, 2:30pm and 4:30pm to transport delegates from Ballina to accommodation in Lismore.
If your team requires transport from Ballina at another time, please advise [email protected]

TRAVEL SUBSIDY
FNMA has a limited amount of funding available to support current FNMA members to travel to CONVERGE Lismore. Please note, this funding will not extend to the full cost of travel and accommodation for the event, but can be used as a contribution towards your travel expenses.

Not sure if your membership is current? Check here.
Quick - better renew or sign up? Click here.
Want to request a travel subsidy? Contact [email protected]

ACCOMMODATION
Six motels in Lismore are offering discounted rates to CONVERGE delegates. Make sure you mention CONVERGE when you're booking to receive the discount offer.

These four are within walking distance of the NORPA conference venue:
Bounty Motel
(02) 6622 7622
www.lismorebounty.com.au

Lismore Gateway Motel
(02) 6621 5688
www.lismoregatewaymotel.com.au

Karinga Motel
(02) 6621 2787
www.karingamotel.com

New Olympic Motel
(02) 6621 9900
www.newolympicmotel.com.au

These two are a little further away, but still within the Lismore CBD:
Comfort Inn
(02) 6621 8877
ww.centrepointmotel.com

Lismore City Motor Inn
(02) 6621 4455
www.lismorecitymotel.com.au

There are also a range of motels in the suburbs of Lismore, within a 10-15 minute drive of the conference venue that may suit some delegates.

Here is a map of central motel locations. - Click to enlarge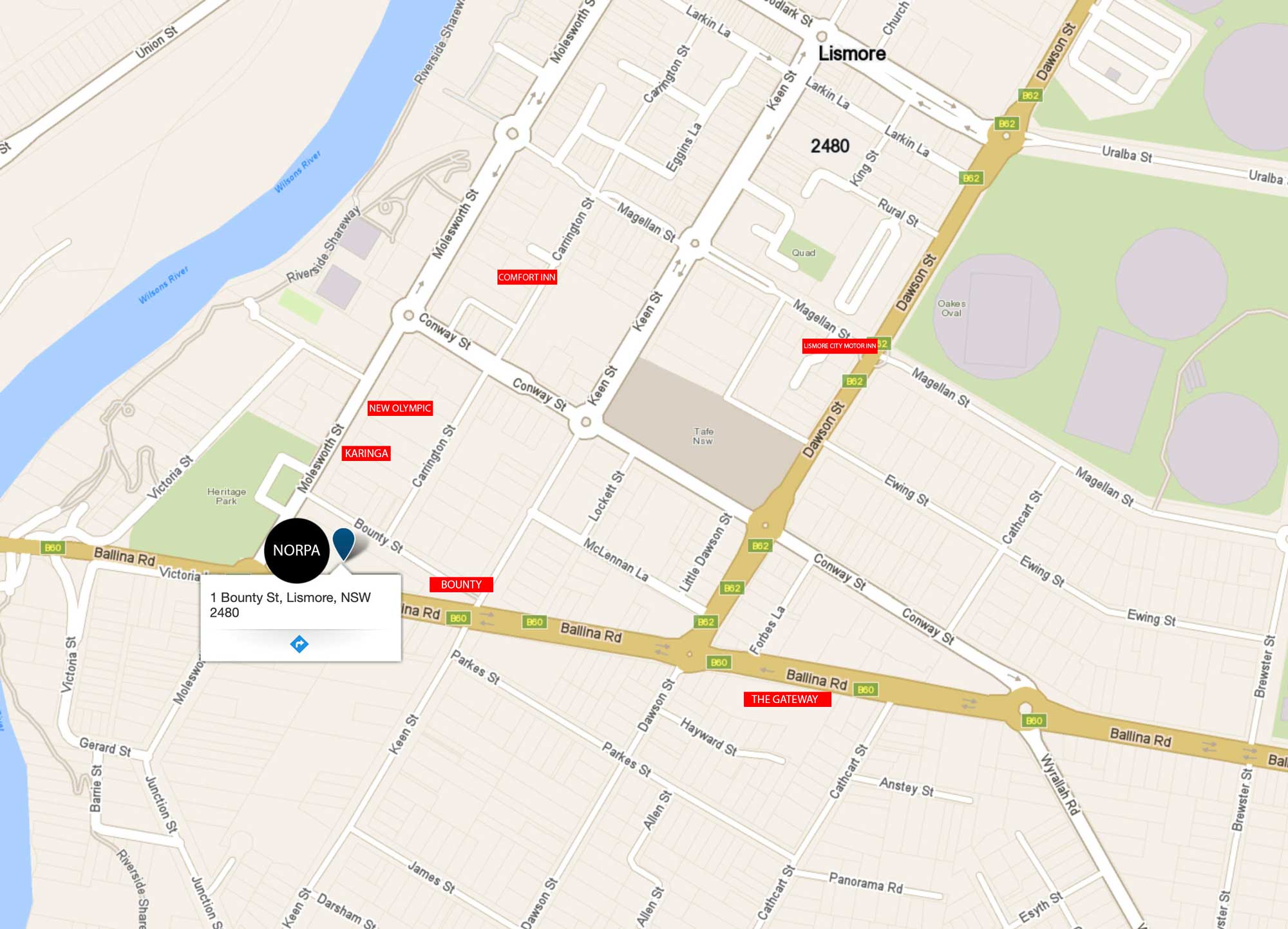 ×
CATERING
Morning tea, lunch and afternoon tea will be provided at the CONVERGE Lismore venue. Dinner will be provided at the Welcome Event on Tuesday 4th May and on Wednesday 5th May.
Please note any dietary requirements with your registration details.

Conference registration does not include breakfast on Wednesday 5th, Thursday 6th or Friday 7th May or dinner on the Thursday and Friday. Delegates may choose from a broad selection of local cafes, food trucks and restaurants in central Lismore, catering to all tastes and preferences.

MORE INFORMATION ON LISMORE
Find further information about Lismore, including medical services, takeaway food and cafes and shopping here.
PRICE
FNMA members:
One-day conference $200 + gst
Three-day conference $330 + gst
Non-members:
One-day conference $250 + gst
Three-day conference $375 + gst

Prices include the Welcome dinner on Tuesday 4th May and catering during the day at the conference.

PLEASE NOTE
Tickets purchases will not be refunded if delegates fail to attend, only if the event itself is canceled.
Cancellation of event or Change due to unforeseen events or COVID Restrictions
In the event of:
(a) an unforeseen event beyond the control of First Nations Media that prevents the conduct of the Event on the appointed dates; or
(b) COVID-related restrictions or issues which prevent the Event proceeding on the appointed dates, then First Nations Media will take reasonable steps in good faith to reschedule the Event to a later date or dates. If despite such efforts First Nations Media cannot find an appropriate date or dates to reschedule the Event, First Nations Media reserves the right to cancel the Event and any conference fees paid to First Nations Media up to the date the event arose or the restriction was imposed will be refunded.

Costs associated with such rescheduling or cancellation
The previous paragraph represents First Nation Media's entire liability in the event of a rescheduling or cancellation due to any unforeseen events or COVID-related restriction. First Nations Media will not be liable to any person for any costs, fee, expenses or losses incurred by the Client or its guests (including cancellation or rescheduling costs) that result from rescheduling in relation to a cancellation or change in the Event caused by or in relation to the Restrictions. Clients and guests should seek refunds from or rescheduling with their own accommodation, transport and other service providers, but this will not be First Nation Media's responsibility.
GRATITUDE
First Nations Media Australia thanks the following key organisations for supporting this event:
Koori Mail
National Indigenous Australians Agency (NIAA)
Community Broadcasting Foundation (CBF)

As well as our conference coordinators:
Christine Ross (FNMA)
Kirk Page (Koori Mail)